Pink Lady's Slipper
Cyperipedium acaule
Orchid Family
top of site - back to plants - back to flowering plants - back to parallel-veined plants - to index of plants - search site
---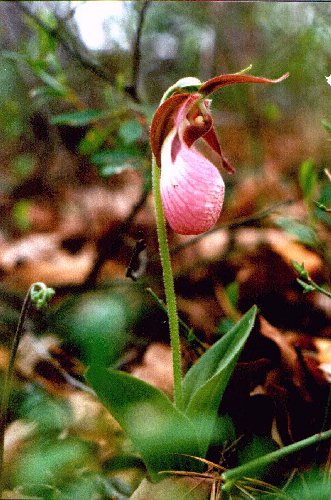 An older picture

all images copyright Mike Baker
---
top of site - back to plants - back to flowering plants - back to parallel-veined plants - to index of plants - search site
Question
We are trying to propagate our lady slippers- have you ever done any hand pollination of them? Any info would be great!

Response
There are heavy collection pressures on wild populations because commercial propagation of this plant has not been viable. Being a naturalist and not a horticulturist, I do not know why this is so. It is certain that it is a 'difficult' plant and that you have lots of company!
<!P> As it is a desirable plant, I would think that substantial research has been devoted to its propagation. If you do find reasonable information on home propagation, please forward the link(s) to me and I will add them to my web page. Hopefully, this would reduce pressure on wild populations.
<!P> Please do not buy plants as those offered for sale are collected from stressed wild populations.
Please insure that the plants you buy are not collected from wild populations.
------------------------------ Lonnie Murray replied:
There are quite a few places that have succesfully raised and propagated native lady slippers in captivity. The real challenge it seems is the same as raising tropical orchids. First, they must be tissue cultured and second they must be grown to simulate their natural habitat. For more information on native orchids, some of which are very easy to grow (like grass pinks) , please visit any of the following sites:
http://www.orchidmall.com/cyp.haven
There is also a society dedicated to the study of Native North American Orchids but my bookmark to their site is out of date. Remember, you can always visit your local native plant society (like the Virginia Native Plant Society ) to get more information on nurseries that sell native plants without collecting them in the wild. I hope this information is useful to you and visitors to your website.

Sincerely,
Lonnie Murray
---
top of site - back to plants - back to flowering plants - back to parallel-veined plants - to index of plants - search site

Page created by: mike@mikebaker.com